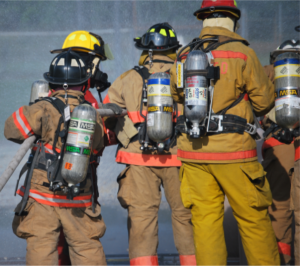 Apply Now — Download the Application
You Will Learn
Skills and knowledge needed to become employed at a firehouse
Science of firefighting
Fire prevention
Safety and Hazards associated with fires
Program Goals:  To familiarize the student with protective equipment, tools, and various appliances to conduct safe and efficient fire suppression activities.  Depending on the program length, the student will also be trained in hazardous materials operations, rescue techniques, fire prevention education, fire alarm systems, and more  in-depth practice and knowledge of basic subjects.
Program Objectives:  To prepare students to safely perform at the target level, and pass the appropriate state certification examination.
Certifications:
Upon successful completion of the training program(s) students are eligible to take the respective state certification exam(s).
To Register:
Complete application
Attend Informational Meeting (Optional)
Length of Program:
Firefighter Volunteer            36 hours
Total Cost:              $578.00
Firefighter I Transitions        124 hours
Total Cost:              $1,100.00
Firefighter I             160 hours
Total Cost:              $1,225.00
Firefighter II Transitions       90 hours
Total Cost:              $1000.00
Fire Safety Inspector            80 hours
Total Cost:              $986.00
Fire (Public Safety) Instructor 80 hours
Total Cost:  $695.00