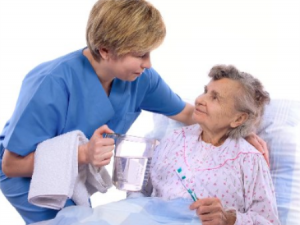 You Will Learn
Basic knowledge and skills used to assist clients with activities of daily living
Effective collaboration and working as a member of the health care team
Certifications:
Certified Nurse Aide (CNA)
State-Tested Nurse Aide (SNTA)
Program Goals:  A combination of subject matter and experiences designed to prepare the student to perform routine tasks involved in the care of individuals receiving nursing services, under a plan of care supervised by a nurse.  Approved by the Ohio Department of Health and meets federal legislative mandates for those employed in Medicare/Medicaid certified long-term care facilities.
76 hours (4-5 weeks)
Day and Evening Classes Available
Times vary
Total Cost:              $837.00
To Register:
Payment Requirements:
Outside Agency: Payment arrangements must be approved and received prior to first day of class.
Cash:  Total Cost by first day.
Accreditation:
The Nurse Aide program is accredited by the Commission of the Council on Occupational Education and the Ohio Department of Health.