Accreditation
Scioto County Career Technical Center is accredited by the Commission of the Council on Occupational Education.
Accredited programs: Chemical Dependency Counselor Assistant, Dental Assisting, Industrial/Constructional Electricity, Industrial Maintenance, Information Technology Professional, Medical Assisting, LPN to RN Diploma Nursing, Nurse Aide, Pharmacy Technician, Phlebotomy, Power Line Mechanic, Practical Nursing, Southern Ohio Police Academy, Surgical Technology, Welding.
Mission Statement
The mission of Scioto County Career Technical Center, the region's driving force for re-energizing the economy, is to provide a superior workforce through personalized training, new technologies, and community partnerships.
Vision Statement
For over forty years the Scioto County Career Technical Center has provided business and industry with skilled and technically trained employees. We believe it is imperative that we maintain the highest quality of service to our community.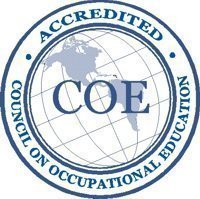 Civil Rights
The Scioto County Career Technical Center does not discriminate on the basis of race, color, national origin, sex, disability, or age in its programs and activities and provides equal access to the Boy Scouts and other designated youth groups.
Safety & Security
The SCCTC's annual Safety and Security Report is required by federal law and contains policy statements and crime statistics for the district. This report is in compliance with the Jeanne Clery Disclosure of Campus Security Policy and Campus Crime Statistics Act. It includes certain types of reported crimes that may have occurred on properties owned or controlled by the district being used for educational purposes, and on public property within or immediately adjacent to district properties. This report is available online at www.sciototech.org. These documents are also available in printed format in the post-secondary education office. The Annual Safety & Security Report is updated and posted annual on or before October 1.
Grievance Policy
Students are encouraged to work through concerns with instructors and/or program coordinators. If a resolution to the concern is not reached the next step is filing a written grievance. A student who has concerns or grievances related to the program may file a written grievance with the program coordinator within five (5) days of the incident giving rise to the grievance. If the student is not satisfied with the resolution of the grievance, the student may appeal the grievance within ten (10) days to the Director of Post-Secondary and Continuing Education. All decisions of the Director of Post-Secondary and Continuing Education are final. Council on Occupational Education, 7840 Roswell Road, Building 300, Suite 325, Atlanta, GA 30350, www.council.org 1.800.917.2081
Ohio Department of Higher Education Contact Information
Students may also contact the Ohio Department of Higher Education if they wish to file a formal complaint.
Ohio Department of Higher Education
25 South Front Street
Columbus, OH 43215
(614) 466-6000
https://www.ohiohighered.org/students/complaints