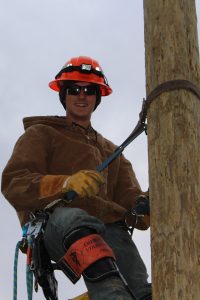 You Will Learn
Overview of the energy delivery system
Qualify to climb poles
Assembly of materials, tools and equipment
Operate a bucket and digger truck
Perform bucket truck and pole-top rescue
Prepare to take the Class A truck drivers exam
Certifications:
Class D Level for Power Lineman
Pole Climbing Certification
OSHA Certification (10 hour)
CDL Training:
CDL Unrestricted Class A License, 160 hours (Valid Drivers License Required)
Ability to pass DOT physical
900 hours (9 months)
M-F          5:00 p.m. – 10:00 p.m.
Total Cost:              $15,313.00
To Register:
Complete application
Attend Informational Meeting
Provide High School Diploma or GED
Make Financial Aid Arrangement
General Information:
Must be able to pass drug test
Must be able to pass physical test
Must have valid drivers license
Individuals in good physical condition with electro-mechanical aptitudes will find this field of work challenging and lucrative.  The physical condition of candidates is important because of the physical strength needed to climb poles and other strenuous activities that are a major part of this career field.
Accreditation:
The Power Line Mechanic program is accredited by the Commission of the Council on Occupational Education.