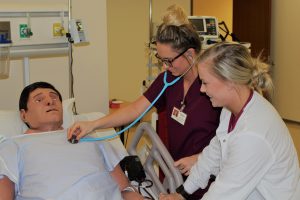 You Will Learn
Basic nursing knowledge and skills
Sound clinical judgment
Ethical foundations of care delivery
Effective collaboration/working as a member of the health care team
Program Goals:  To prepare students for certification and licensure exams upon completion of the program.
Certifications:
CPR for Healthcare Providers
Licenses:
Licensure is available through the Ohio Board of Nursing NCLEX-PN licensure examination.  Individuals successfully passing the licensure exam become a Licensed Practical Nurse.  The Licensed Practical Nurse is legally responsible and accountable for knowing the legally-defined scope of nursing practice.
1350 hours (1 year)              M-F
Class, Lab and Clinical hours will vary.
Deadlines:
      Spring Class:                 January 7th 
     Fall Class:                     September 1st
Total Cost:              $13,346.00
To Register:
Complete and submit application for admission with $30 non-refundable application fee.
Submit Official copy of high school transcript or GED
Make Financial Aid Arrangement
WorkKeys scores:
Applied Math 5
Graphic Literacy 4
Workplace Doc 5
Submit One Page HANDWRITTEN letter explaining why you want to be a nurse.
The following Must be completed AFTER acceptance into the Practical Nursing program.
Attend MANDATORY Orientation Meeting
TEAS test – Must make appointment
Financial Aid, set-up payment plan or paid program costs
BCI (state) and FBI (federal) background check
Physician Release
Current Healthcare Immunizations
Drug Test (negative results)
Accreditation:
The Practical Nursing program is accredited by the Commission of the Council on Occupational Education and the Ohio Board of Nursing.
DOWNLOAD THE APPLICATION or Apply Online
PN Application Pkt – TEAS Info