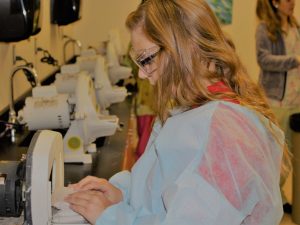 You Will Learn
Chair-side Assistance
Dental Laboratory
Dental Office Procedures
Dental Specialties
Documentation
Emergency Procedures
Employability Skills
General Patient Health
Infection Control
Preventative Dental Assisting
Radiographic Procedures
Related Mathematics
Certifications:
RDA certification from AMT.
Dental Radiographer Certificate from Ohio State Dental Board.
Additional certification(s):
CPR for Healthcare Providers (AHA)
900 hours (about 1 year)
M-Th        5:00 p.m. – 10:00 p.m.
Total Cost:              $7,581.00
To Register:
Complete application
Attend Informational Meeting
Provide High School Diploma or GED
Make Financial Aid Arrangements
Training: 
A combination of subject matter and experiences designed to prepare a student to assist the dentist at chair-side, perform reception and clerical functions, and carry out selected dental laboratory work.
Program Goals:  To prepare students for certification exams upon completion of the program.
Accreditation:
The Dental Assisting program is accredited by the Commission of the Council on Occupational Education.